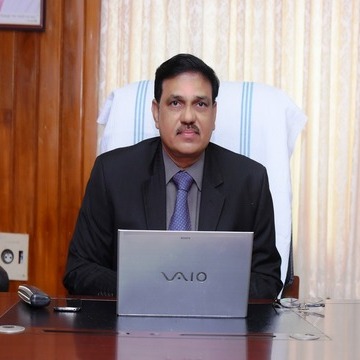 Message of Vice Chancellor
Kerala University of Fisheries and Ocean Studies (KUFOS) continuously combines traditional values of excellence in teaching and research with an attitude that challenges conventional practices and produces new ways of developing and delivering courses. KUFOS strictly follows its Vision 2020 Plan which aim to become an Internationally acclaimed academic organization. This is the only University in our country having a unique blend of ICAR in offering fisheries courses and under UGC/AICTE in offering various UG and PG programmes. University has introduced various academic programmes in the emerging areas to cater to the needs of the society. I am much proud to mention that we are offering 2 UG programmes and 34 PG programs in different disciplines. The main focus of the University is post graduate teaching and research. Over 150 Ph D students are working under various Faculties of the University.
Within a short span of about eight years, KUFOS has identified the major research needs and gap to find solution to the problems being faced by the fisheries and ocean sector to improve the sustainability of these resources. A vibrant culture of research with various research projects is aimed at the integrated and sustainable growth of fisheries sector in partnership with the Government, industry, fish farmers and fisher folk. Under this objective KUFOS has started four Centres of Excellence in Sustainable Aquaculture and Aquatic Animal Health Management, Aquatic resource Management, Food processing Technology and Centre for advanced studies and research in Entrepreneurship development. The major objectives of the centres are to develop brood stock of cultivable fishes, improvising knowledge on conservation and management of aquatic living resources and development of value added products from fish and agricultural farm produce. An intensive training and consultancy service is being offered to stake holders, artisans and students in fisheries and ocean sector.
I am much pleased that a Referral Disease Diagnostic Laboratory is now functioning in KUFOS, this center effectively establishes a new network for disease surveillance, monitoring and prevention of disease in aquatic animals of Kerala State. In this program, 1200 farmers were benefitted. MoUs have been executed with esteemed National and International Institutes/Organizations like CIFT, CMFRI, INCOIS, NCESS, SEIA, NIO, EIA, NBFGR, NTOU Taiwan, NCCU Taiwan, Asia University Taiwan and Bournemouth University UK for co-operation in the field of Academic and Research. The MoUs executed will immensely benefit in the developments of the University in the years to come. Prof (DR).A.Ramachandran Vice Chancellor